Chapel Bay Lodge paintings
June 27. 2019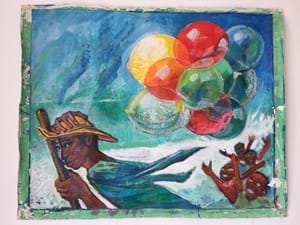 This is a very personal blog as it explains the origins of the paintings on display in Chapel Bay Lodge, which are the work of my late father, René François.  Many of our guests have remarked on his unique artwork so here is some background about his life, influences and inspirations, as well as how the paintings came to be in the Lodge.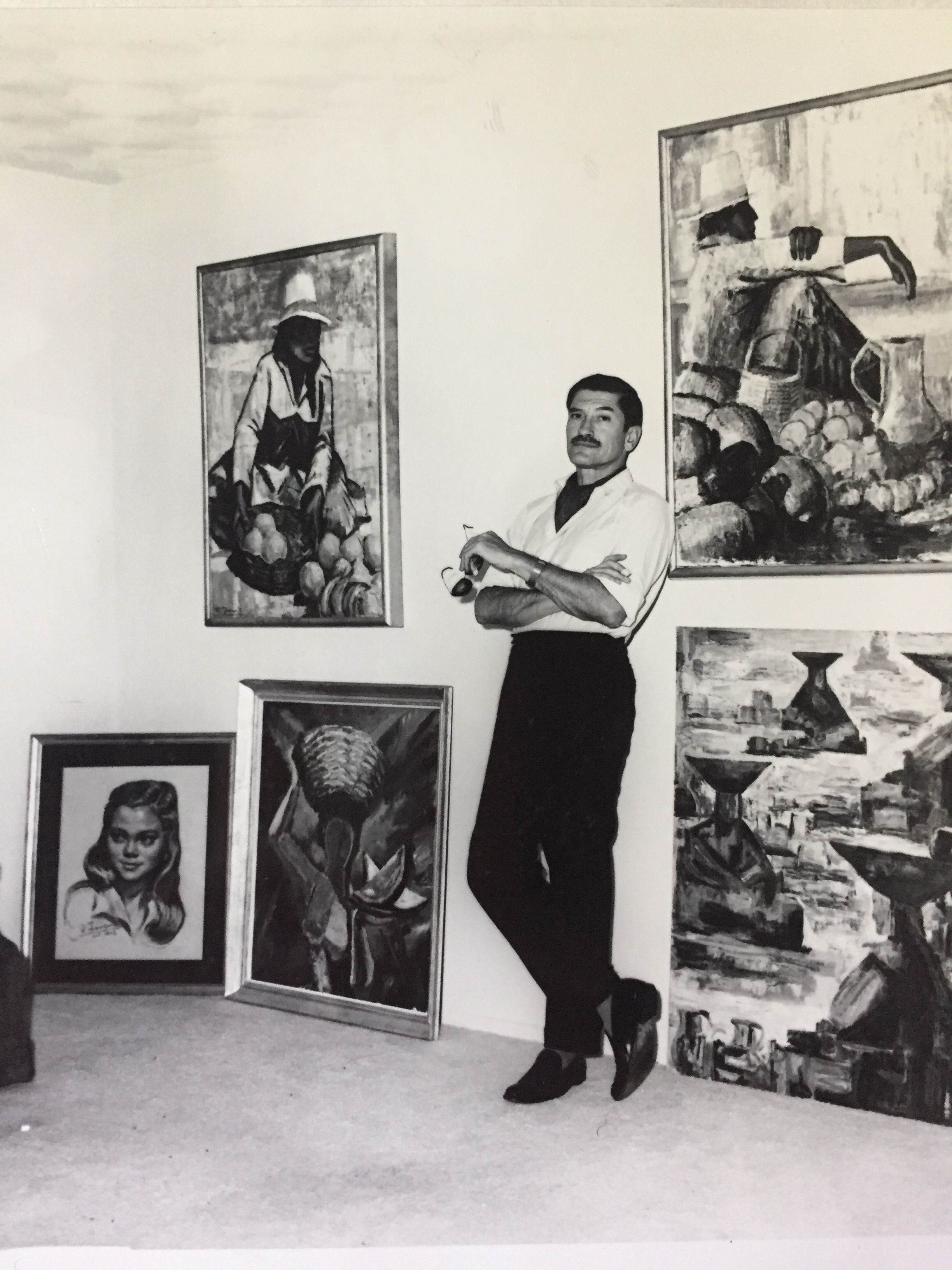 René studied in Paris in the 1930s under the tutorage of Maurice Denis and later Jean Metzinger.  He was influenced by the work of Gauguin, Cezanne and Van Gogh and his own painting style is strong, realistic and vivid in colours.  He was also celebrated for his portraits in oil or charcoal and painted many literary and film stars, diplomats and politicians, as well as royalty.  He held exhibitions throughout Europe and South America and many of his works are in museums and private collections around the world.  He was a great traveller and lived and painted in many countries including France, Spain, Mallorca, Tenerife, the USA, Venezuela, Peru and Mexico.
 
The work displayed in the Lodge dates from the early 1970s and was created mainly in Caracas, Venezuela, where he lived for a period.  Many of these paintings subsequently featured in an exhibition held in Mallorca in 1974 entitled 'Mar…Peces…Pescadores' ('Sea…Fish…Fishermen').  René's main inspiration was the sea and he was also interested in the constant activity of fishermen at work in a harbour.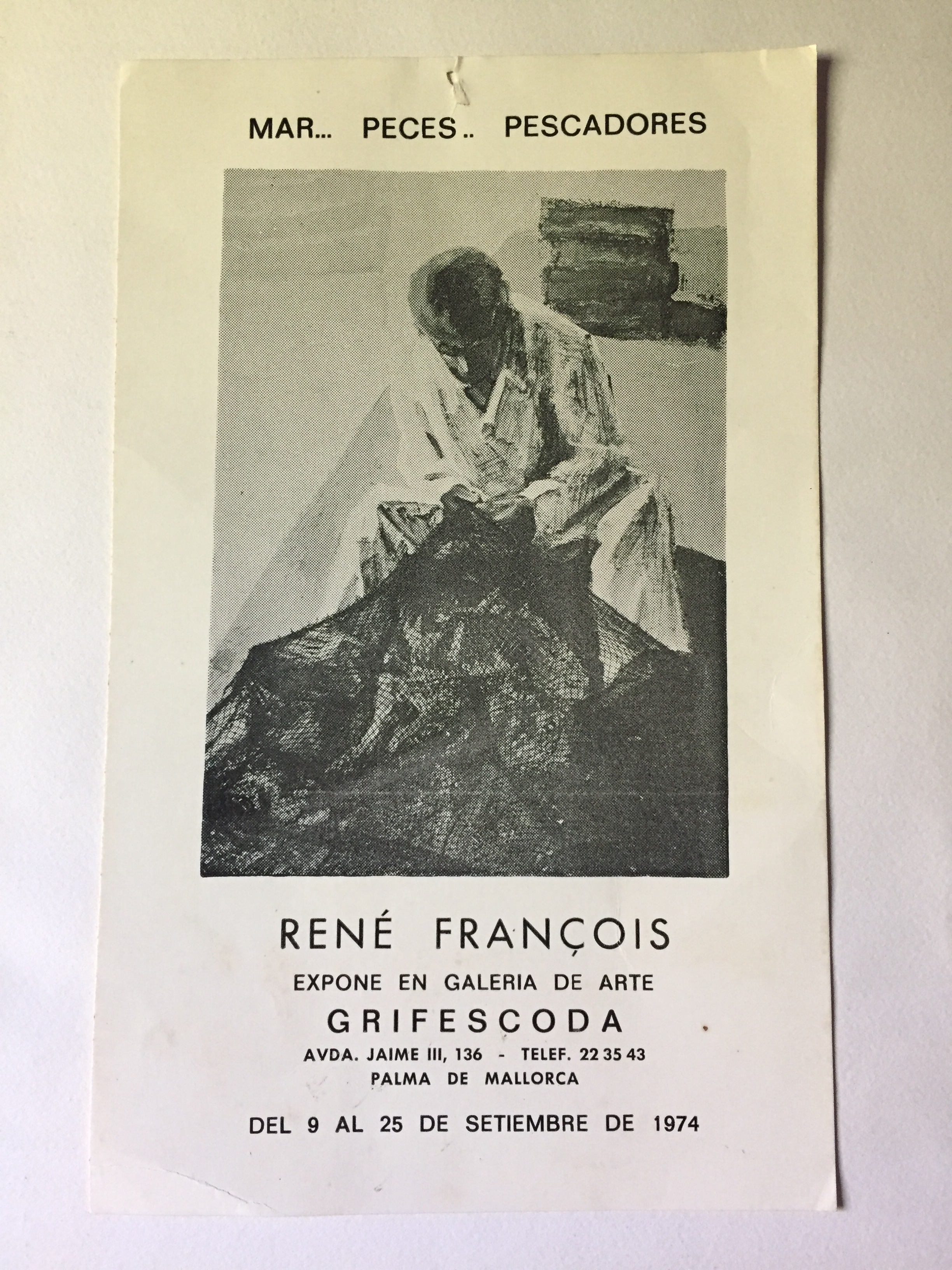 The painting in the bedroom of two fishermen in yellow hauling the net were painted in Caracas, as was the window scene shown in the painting hanging in the hallway and the fisherman mending his net in the lounge.
The painting opposite the bed is titled 'Tourbillon', meaning 'whirlwind', and depicts a swirling shoal of barracudas.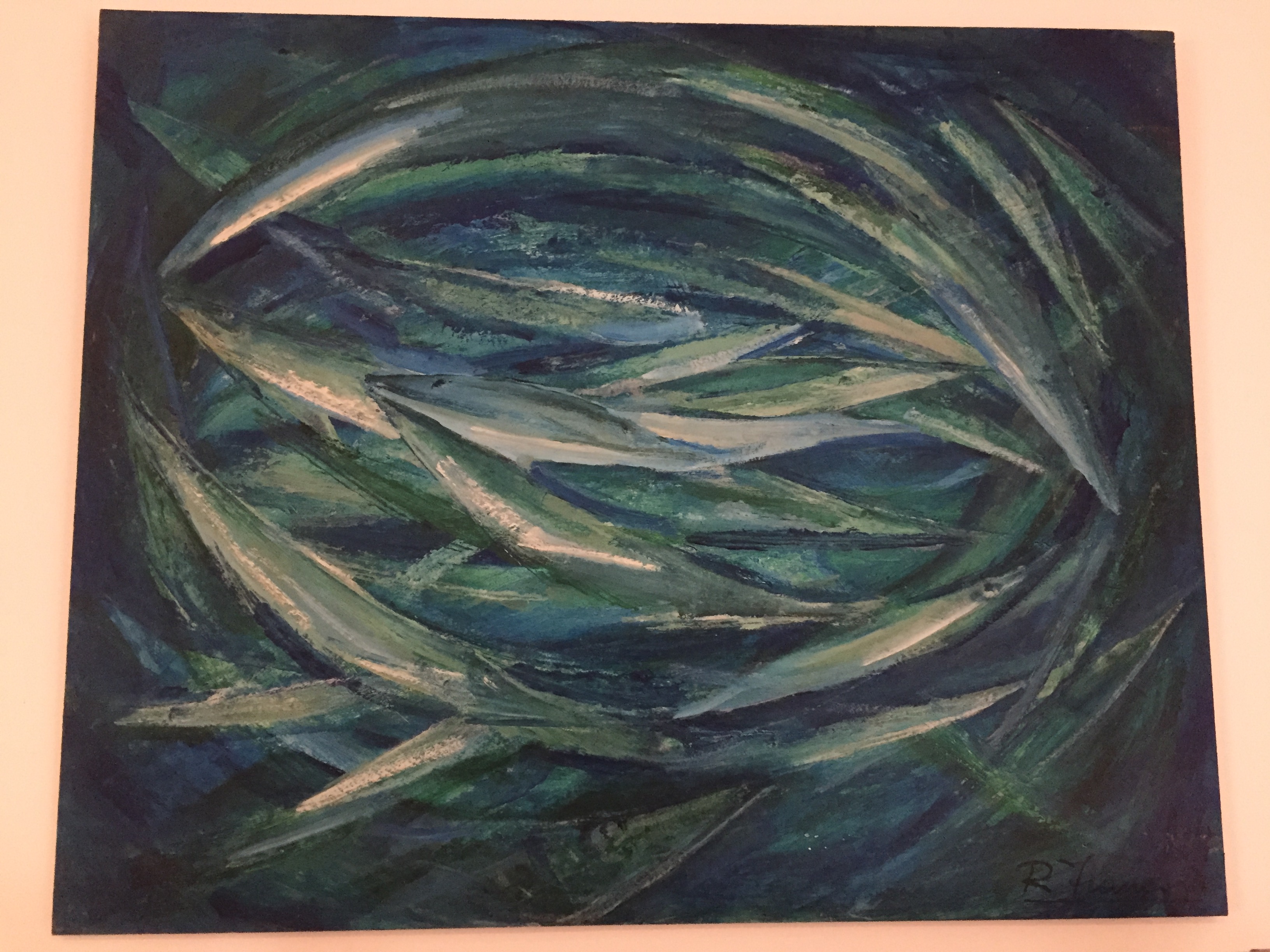 The balloon-seller hanging in the lounge is a particular favourite of mine, and captures a scene from a beach in Caracas.
The three framed collages in the lounge depicting market stalls and traders are part of a larger series which he undertook whilst bedridden with a back injury and unable to paint.
René considered these pieces to be some of his best works, and selected them - along with many other paintings, portraits and sketches - to be placed into storage in Normandy, France in the 1970s when he moved from Europe to live in Mexico. 
He died in France in 1989 and it wasn't until 2004, decades after everything had been boxed up into crates, that Nick and I brought everything out of storage to the Isle of Man, crammed into the back of an ancient Hymer.
There were hundreds of pieces in total: oils and acrylics on canvas, some framed but many others were rolled up, separated with layers of tissue paper to stop them sticking together; portfolios full of charcoal and sanguine sketches, landscapes and portraits; collages; exhibition posters and numerous packs of slides of photos he took on his travels.  It was an incredible experience to open up this time capsule of his work and life.
The walls of our house are lined with René's work, however even more still remained in the attic, so when we renovated Chapel Bay Lodge, one of our first ideas was to use the space to showcase some of these paintings.  We kept the walls plain white so the paintings could take centre stage.  The bold and vibrant colours of his work influenced our choice of interiors and so the seaside theme emerged, led by the paintings themselves.
We decided to put the canvases on the walls as they were - some in their original home-made frames and others unframed, with the rough edges of canvas revealing the layers of background colour.
I feel very proud to display these paintings in Chapel Bay Lodge for our guests to enjoy as others did many years ago, and I like to think my father would be pleased with this latest exhibition of his work.